IoTeX launches MachineFi, a combination of machine and DeFi – Use Cases and Applications
What is MachineFi IoTeX? Use Cases and Applications! MachineFi Portal Opens Its Doors as they are launched in Beta Stage.
The MachineFi Portal is your gateway to access the new machine economy, powered by IoTeX. Register your devices, view your data, interact with Dapps, and much more.
Web2 saw the development of the Internet of Things (IoT), Blockchain, Cryptocurrencies, Decentralized Finance (DeFi), Big Data, along with Artificial Intelligence. These were each evolving independently and had not yet combined their strengths to become something greater. The data generated and the revenue from that data has been the exclusive property of these big centralized companies.

Now we are seeing the convergence of each of these technologies and the result is MachineFi. MachineFi is the integration of connected devices, blockchain, DeFi, AI and Machine Learning.
MachineFi makes it possible to uncouple the pools of data from the big tech companies and return the value to its rightful owners, the creators. This has only become possible because these separate technologies are now being employed in concert.
The interplay of these parts creates an economic system where business is conducted autonomously – machine to machine and people to machines. Now the everyday people who own these revenue producing machines can participate in this new economy, MachineFi.
That's all very nice in theory, but how will you and I be a part of this new economy?
The MachineFi Portal is a first-of-its-kind gateway to securely connect these technologies and make them available to both individual people and businesses. Don't have a Pebble? Check out demo.machinefi.com to get a Virtual Demo Device and explore how the MachineFi Portal works.
This is where the physical rubber meets the digital road.
Seriously, this is where it becomes clear how our actions in the real world translate to their digital counterparts. The digital economy functions using this input from the real world. Whether it's proving you performed an action, measured the temperature at a given location, lowered your blood pressure, used your autonomous tractor to plant this year's crop (yes, this is a thing) –  whatever people or businesses value – there's incredible value in mirroring the real world online. Now people, not just corporations, can enjoy this value.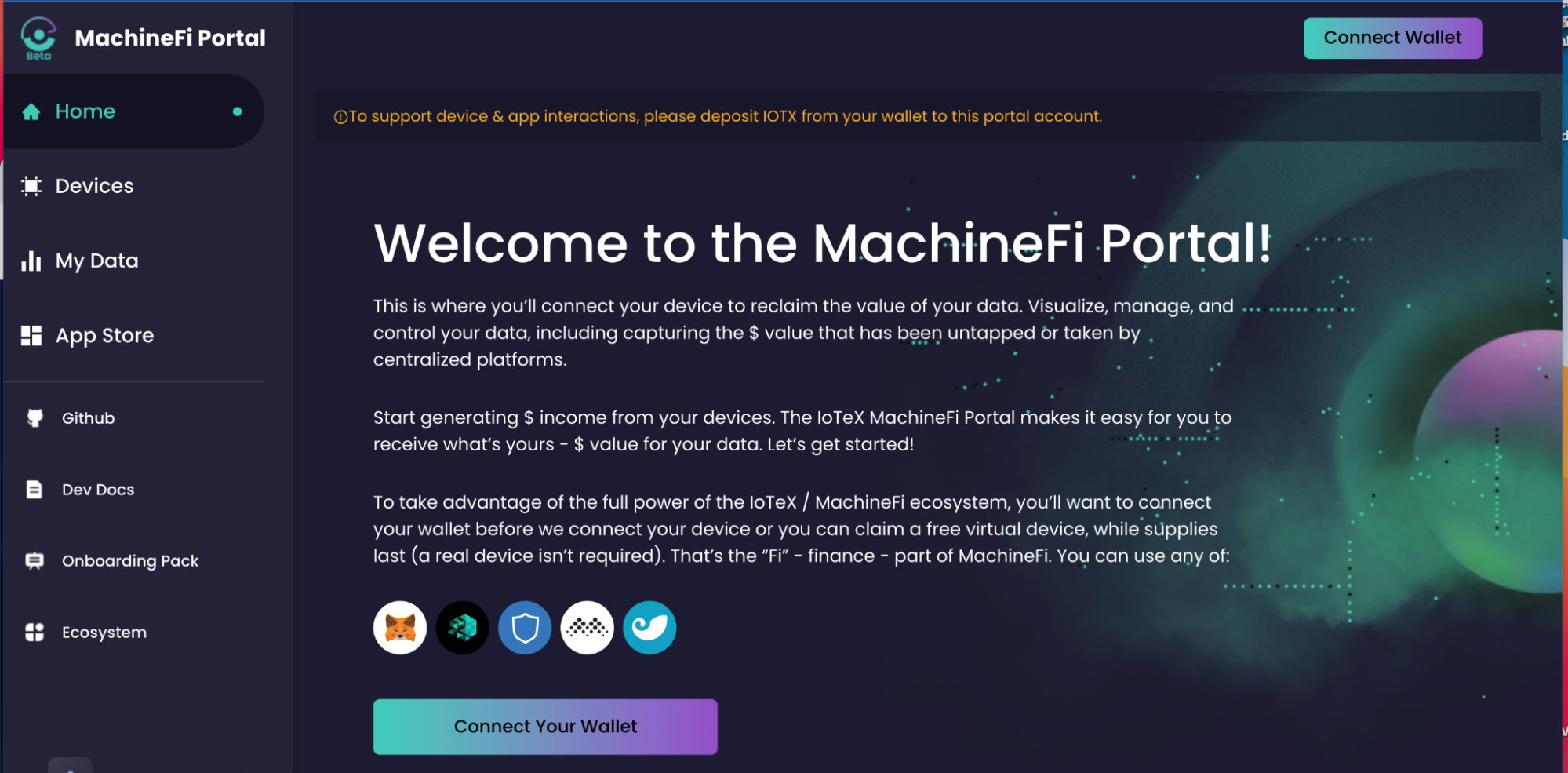 We hope you agree – it's a big deal that people now have a clear path to being in control of the data they create through their – or their machine's – actions in the real world. This has never existed before today! And we want to make it ridiculously simple for you and others to join this new world.
For the first time in the history of the internet, you can see and control how your data is used, including being able to access DApps that let you monetize your data. Let's walk through the sections of the MachineFi portal to see what you can do:
Connect a cryptocurrency wallet to participate in the MachineFi economy
Add a device to your account
Establish your own identity and link your devices to it
View your data
Work with Dapps to earn from any data you want to share
Find useful documentation on Github, our Dev Docs, and Onboarding Pack and
See the incredible range of projects already live on the IoTeX platform (Check back often. New projects are joining every week.)
---
Connect your wallet
You can use Metamask, ioPay, Trust, Math, or imToken. You'll need to deposit some IOTX to your MachineFi portal balance in order to send data from your device to DApps.
Add devices to your account
This is the place to add one or more devices to your MachineFi Portal account. Don't have a Pebble? Check out demo.machinefi.com to get a Virtual Demo Device and explore how the MachineFi Portal works. Here you can view a Demo Pebble, check out its data, and browse through the app store.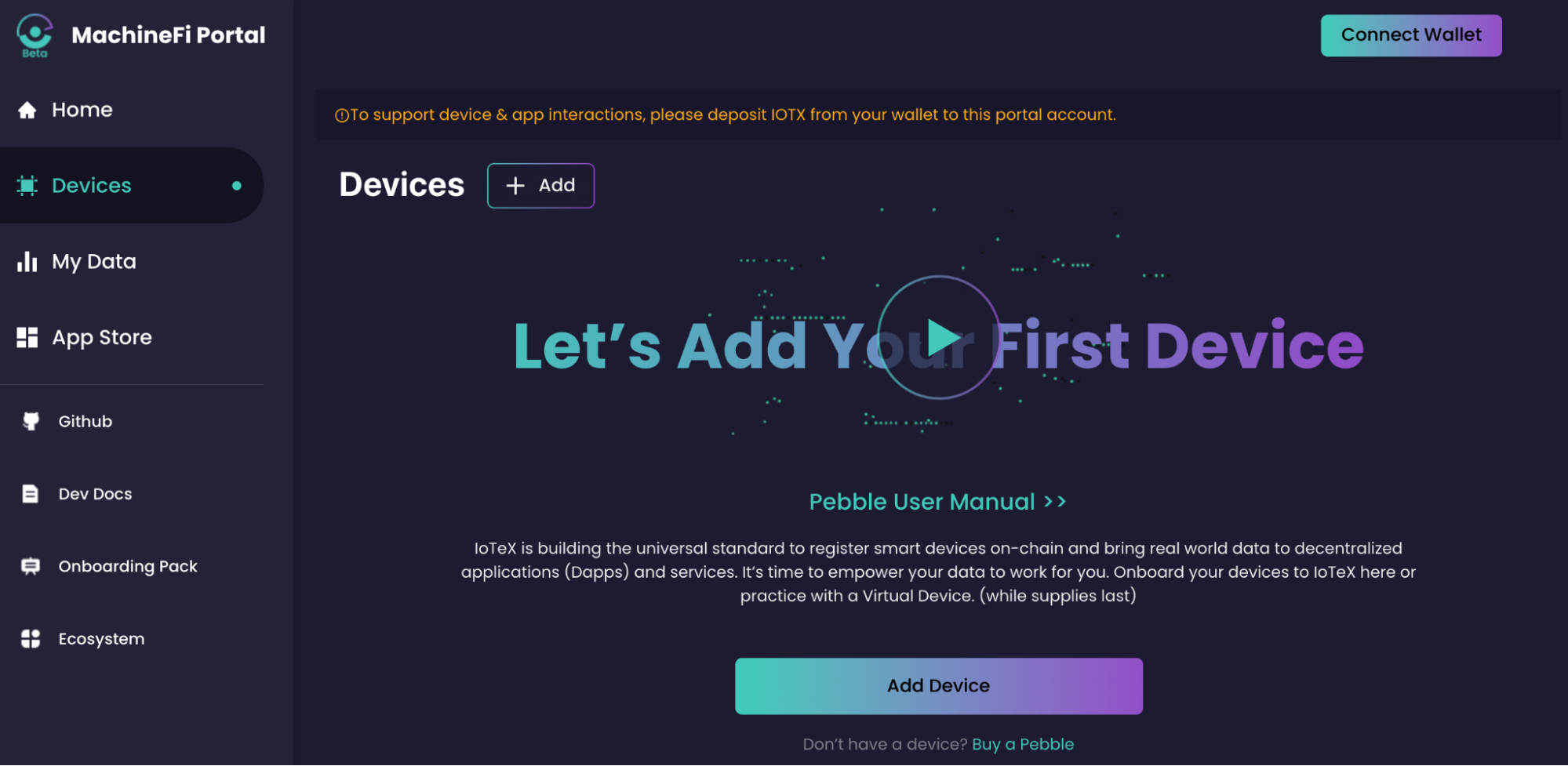 If you own a Pebble you can get started today with our Pebble Tracker Quick Start Guide. This clearly laid out guide will walk you through the steps needed to create a MachineFi account and deposit IOTX tokens to enable your device to send data to IoTeX Dapps.
View Your Data
Once you've connected and claimed a device on the MachineFi portal, you'll be able to see the data from that device. That data includes time stamps, temperature, atmospheric pressure, humidity, ambient light, motion, and location.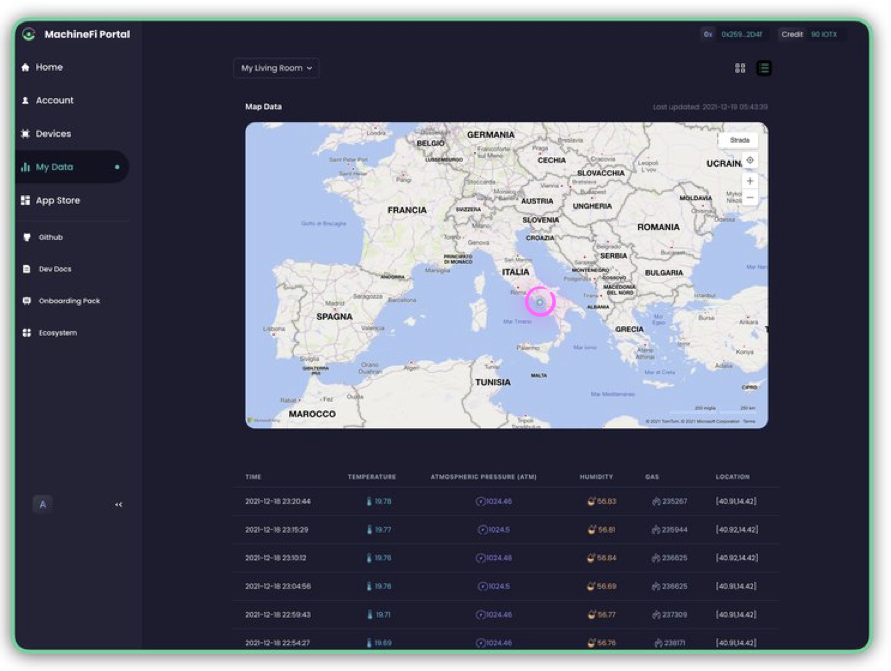 Access MachineFi Dapps via the App Store
This is where the MachineFi community will bring Dapps that make your data a living breathing part of the MachineFi economy. Your data will be an integral part of smart contracts that provide value that was previously controlled by big tech companies or completely unavailable.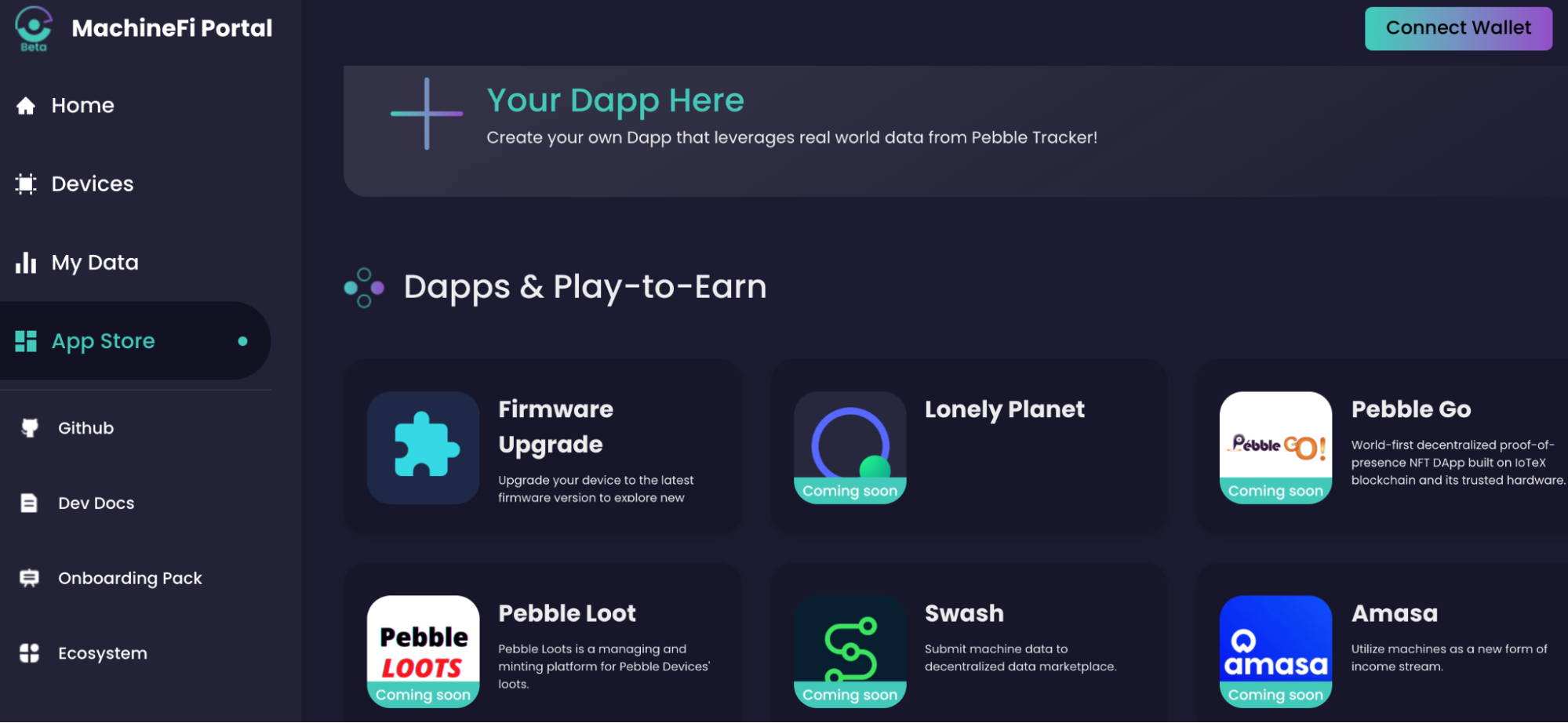 Create your own DApp that uses data from your Pebble tracker. Don't have a Pebble? Soon developers will be able to build compatible projects with Raspberry Pi and Arduino SDKs.
Blockchain Developers can use trusted data from Pebble devices in their smart contracts to build innovative MachineFi decentralized applications (DApps).
IoT developers who want to prototype Blockchain-based solutions to bring real-world data to a wide range of applications can use Pebble Tracker.
DApps and Play-to-Earn lets you choose from a suite of products that let you, for example, mint NFTs as Proof-of-Presence, submit your data to decentralized marketplaces and choose from many more options in the coming days.
Or join a Data Consortium such as the Bay Area Weather Index, the first crowdsourced weather index, or AirQualiTEE, the first crowdsourced air quality index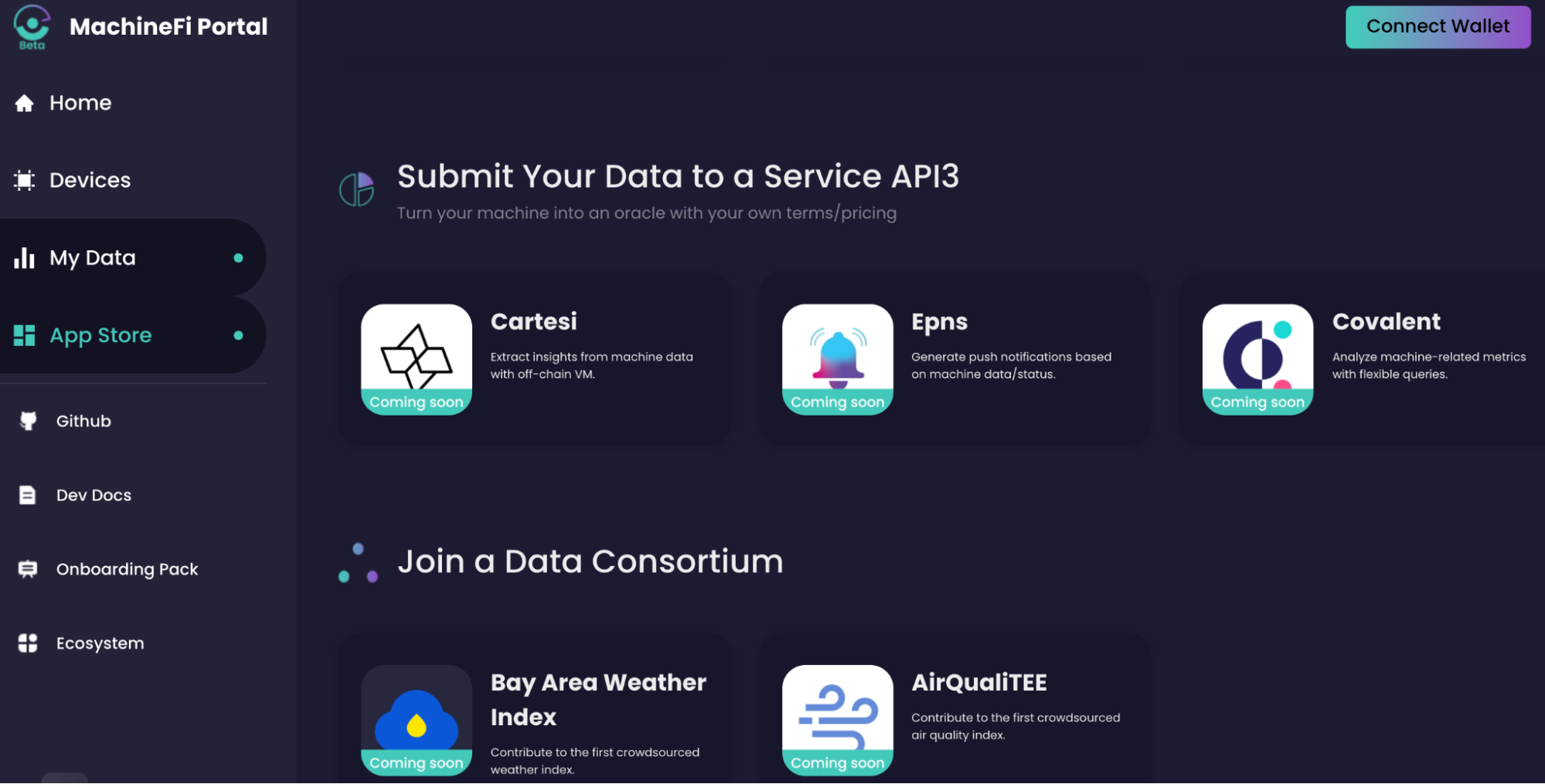 Whether you are motivated by profit or by contributing to an open access database for social impact, you are now in control. This is a sea change in how data is used and who is entitled to make those decisions.
The Final Word
The MachineFi portal is something new to the world. We invite Pebble Tracker owners to register your device at portal.machinefi.com and all other people to check out demo.machinefi.com to get a demo of how the MachineFi Portal works.
Whether you're lucky enough to have a Pebble or not, you can still explore the possibilities. Join the movement to own and manage your own data and be part of the new MachineFi economy and ecosystem. You'll start to understand the enormity of what is taking place!
---
About IoTeX
Founded in 2017, IoTeX is an EVM-compatible blockchain platform to fuel the Internet of Trusted Things, an open ecosystem where humans and machines can interact with guaranteed trust and privacy. IoTeX envisions a future where everyday people can own and control their smart devices, as well as the data and value they generate. Backed by a global team of 30+ top research scientists and engineers, IoTeX combines blockchain, decentralized identity, and secure hardware to enable user-owned IoT devices and networks. By connecting the physical and digital worlds, IoTeX will empower the future machine economy and redefine the trillion-dollar IoT industry.