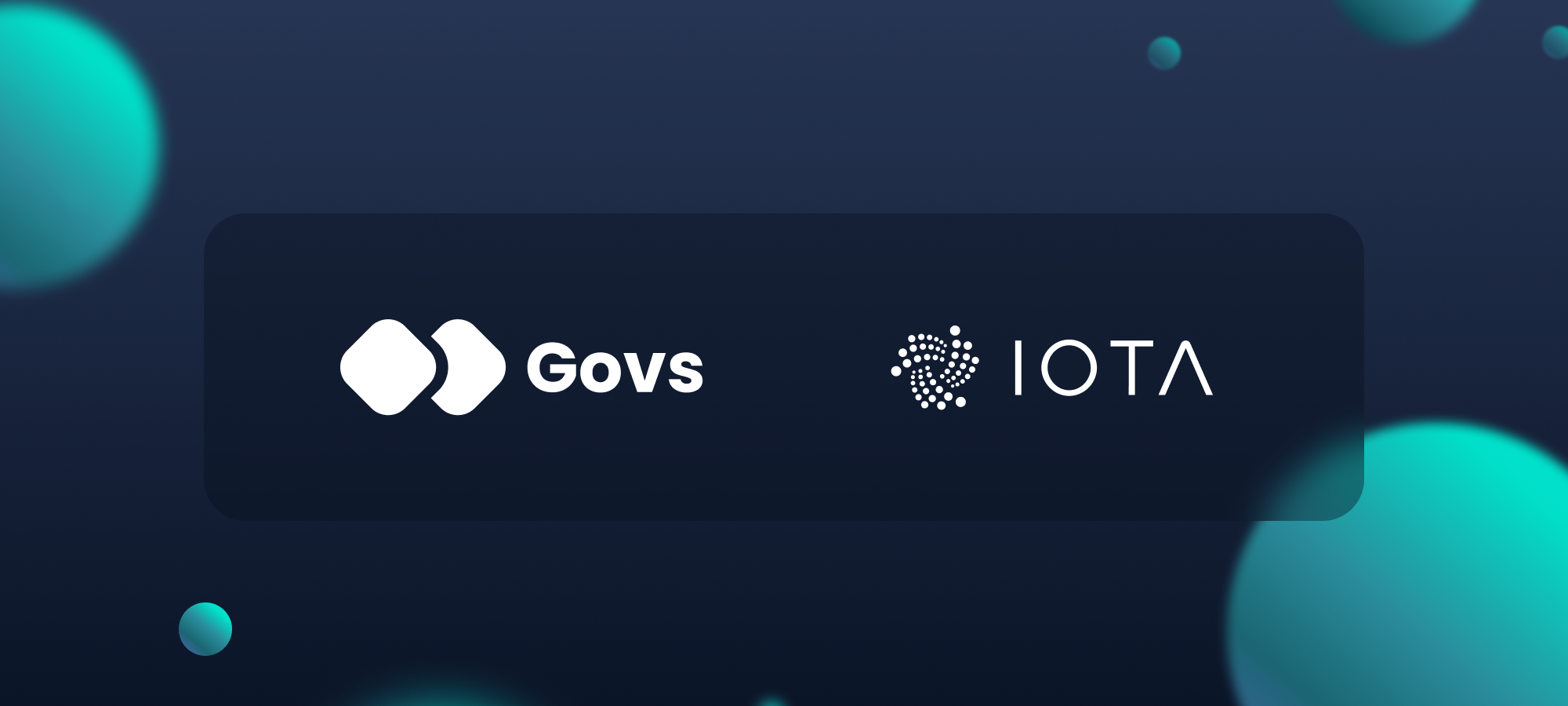 What is GOVS by DataGovs? How does It Helps To Support Data Controlling for IOTA? DataGovs Launches GOVS to Support Data Governance on IOTA
DataGovs utilizes IOTA's Tangle to streamline the use of Internet of Everything and governance of data for people and organizations at scale. Marketplace functionality will utilize the IOTA token to facilitate quick and feeless transactions.
Data is everywhere and the smarter it is aggregated, the better the conclusions we draw from it and the more accurately we can forecast important decisions based on that data.
Data governance
Data governance is an approach to managing data from beginning to end of use. Every organization – including those that leverage IOTA – needs data governance.
Today we announce GOVS, a collaboration between the IOTA Foundation and DataGovs, a startup organization focused on data governance. Built with IOTA technology, GOVS is a new protocol built for sustainability.
What is GOVS?
An acronym of "governance system", GOVS takes the utility of data management for cloud warehouses and extends it to distributed ledger technology. It is designed to help people, cities and organizations carry out secure data and asset monitoring initially related to energy and water consumption.
On the technical level, GOVS is a governance protocol designed to extend asset monitoring across clouds to distributed ledger technologies and further real-world adoption. The team behind GOVS looked at the market and realized that, to better serve customers, it was critical to create turn-key, ease of use, and simplistic protocols for using ledger technologies. After building a connector for two other solutions, DataGovs is now using IOTA to connect, automate, and monitor the Internet of Things.
Gregory Johnson, Co-Founder of US-based DataGovs, said: "We serve growing business and enterprise in digitizing their physical operations on the cloud and distributed ledger technologies for assets for the Internet of Everything. We see this being a driver for better operations powering the economy in reliable data on safety, sustainability, compliance, and efficiency."
Data governance on IOTA
GOVS will first serve as an iOS application that acts as a gateway and data marketplace. It could be compared to a MetaMask if it were built on IOTA and designed for organizations. The team has already launched the iOS beta with over 1,000 users testing and offering feedback on safety complaints data with an aspect of IOTA Streams to drive models of sustainability. In-app DataGovs will launch a wallet that will hold crypto – such as IOTA tokens – with the goal of leveraging these tokens in processing "data" and exchanging credits for tokens. With this integration, DataGovs is already working with pilot customers and organizations to test secure data sharing for assets connected to safety metrics in the US, with plans to expand to more organizations.
The DataGovs team comes from high-growth startups and large technology companies like Microsoft, Costco, Comcast, and ABinBEV. The team brings those experiences from solving hard payment, cloud, mobile, and machine learning problems to how they build their business. Based in Miami, Florida, DataGovs was founded after a successful research project at Stanford. Gregory realized a need for better tools for managing and using data after founding Florida's largest civic technology community, Code for South Florida. There he built a reputation for using public code, open data, and community to address problems for local organizations and government.
Commenting on the collaboration with the IOTA Foundation, Gregory said: "We are confident that as long as people and organizations seek to use IOTA in their workflows our connector will thrive and serve the ecosystem beneficially. For us, it's not about technology it's about the problems people are facing and giving them the best tools to address it. Today tools like Git are available as a project, but people still use GitHub or GitLabs. Why? Because there will always be a need for a product or entity to broker trusted services. Technology like IOTA is a pillar that increases the adoption of the web. Some call it Web3, but we think of it as the way the web was supposed to be all along. "
DataGovs and the IOTA Foundation
In September 2021, DataGovs signed a Letter of Intent with the IOTA Foundation. The DataGovs team is working with the IOTA Foundation in shaping the GOVS protocol while adopting lessons from the IOTA data marketplace and applying it to their work. GOVS will be a network with a focus on utility data for the future of work using machines to drive sustainability, compliance, efficiency, and safety. As part of this, DataGovs will also offer the IOTA token as an option for data payments, utilizing the concept of the IOTA data marketplace.
According to Holger Köther, Director of Market Adoption at the IOTA Foundation, "It is marvelous to see the ecosystem growing with an increasing number of startups building on IOTA. Through Assembly, we offer several USPs not available on other platforms. Scalability, zero fees, and atomic composability will enable token exchange between ecosystems without bridges and thus empower a new generation of builders with the best basis to build for the real world, the metaverse, and web3. We are excited to welcome DataGovs and to support their success with our knowledge and network".
Although there are currently no plans for open source, the GOVS team believes that opportunities to accelerate buildings on top of the GOVS protocol will arise from the added value and close collaboration with customers. Today the beta version of the GOVS protocol lets users get a curated feed of IoT sensors and explore a map of decentralized application services in the real world.
IOTA features new projects incorporating IOTA's distributed ledger technology. We assist ecosystem projects with technical support and networking to help them succeed. Neither the code base, services or any other offers by startups featured by the IOTA Foundation have been vetted. Therefore, our selection of projects is not to be considered as investment advice.
About DataGovs
DataGovs Inc is a data governance company that supports organizations that rely on the physical operation by using the internet of everything and machine learning to enable real-time asset monitoring to drive business goals. Today, organizations like Serta Simmons Beddings, the City of Miami and Boaz Bikes use DataGovs to increase key performance indicators for safety, sustainability, compliance, and efficiency.
DataGovs protocol GOVS aims to bridge data that sits on the cloud, data lake and is now adding blockchain and distributed ledger technologies as places for storage and processing of data. With a vendor-agnostic ecosystem, users of GOVS can choose where to move or use their data on without limitation.