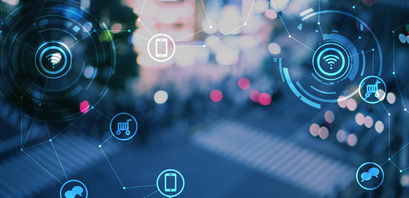 IOTEX (IOTX) Price Prediction 2022 2023 2024 2025 – 2031? Will It go up & Is it a good investment?
Last updated 30th Nov 2022
The IoTeX price has gotten its mojo back. The IOTX price has risen to $0.3015, which is about 100% above its lowest level on Tuesday. This rebound has pushed its total market cap to more than $1.3 billion.
What is IoTeX?
IoTeX is a blockchain project that is relatively similar to Iota. The platform is aiming to incorporate blockchain technology into the fast-growing industry of the Internet of Things (IoT).
To achieve this, the platform uses smart contracts to help other developers build apps. While IoTeX is relatively young, it has attracted several developers. One of the biggest ones in the ecosystem are the Game Fantasy Token that is valued at more than $15 million. Others include ZoomSwap, iMagicToken, and Parrot Egg.
IoTeX is addressing a relatively sizable market. Today, we have billions of devices that are connected to the internet. In the next 9 years, the number of these devices is expected to soar to more than 100 billion.
1
Minimum Deposit
$ 50
Exclusive Promotion
More than 3,000 assets, including currencies, stocks, cryptocurrencies, ETFs, indices and commodities
Buy crypto, or trade cryptocurrencies via CFDs
This ad promotes virtual cryptocurrency investing within the EU (by eToro Europe Ltd. and eToro UK Ltd.) & USA (by eToro USA LLC); which is highly volatile, unregulated in most EU countries, no EU protections & not supervised by the EU regulatory framework. Investments are subject to market risk, including the loss of principal.
The developers hope that their platform will help humans interact with machines in a relatively secure environment. So far, there are almost 10,000 devices connected to the IoTeX platform. These devices have seen more than 14.19 million transactions. Therefore, there is a strong room for growth.
IoTeX price has risen so fast for several reasons. First, investors are in a constant search for the next big thing. Therefore, when the IOTX price started rising, many of them moved into the platform. Besides, recently, we have seen many cryptocurrencies move from obscurity to become the biggest ones in the world.
Second, the price has jumped because of the growing industry known as the metaverse. Analysts believe that IoT will play an important role in this emerging industry. Recently, we have seen several companies like Facebook and Microsoft embrace the industry.
IoTeX will deliver a keynote at @DeFiLive_ alongside @AaveAave @Avalancheavax @Algorand and more! 🎙️

Our co-founder @Raullen will be presenting "MachineFi: Connecting the Real World to the Metaverse" on Wed, Nov 10 at 12:55pm UTC.

➡️ Register now: https://t.co/oiKI5GBke5 $IOTX

— IoTeX (@iotex_io) November 10, 2021
Finally, the IoTeX price has done well because of the overall strength of cryptocurrencies. Indeed, this week, Bitcoin jumped to an all-time high of more than $68,000 while Ethereum surged to more than $4,800. This happened as the fear and greed index has jumped to the greed zone.
What is the future of IoTeX price?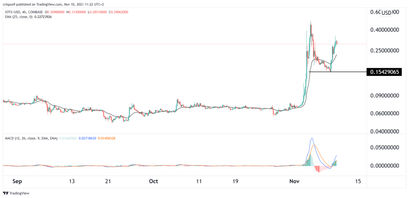 To be fair, it is relatively too early to predict the future price of IoTeX. In the past, we have seen some hot cryptocurrencies come and go. At the same time, we have seen some like Dogecoin (wondering if you should buy Dogecoin? Check our guide to buying Dogecoin) that have moved from nowhere to becoming the biggest coins in the world.
From a technical perspective, we see that the IOTX price struggled moving below the key support at $0.1530. It has then continued rallying and is approaching its all-time high. For now, the coin will likely maintain the bullish trend because of the momentum.

Crispus Nyaga
Crispus is a financial analyst with over 9 years in the industry. He covers cryptocurrencies, forex, equities, and commodities for some of the leading brands. He is also a passionate trader who operates his family account. Crispus lives in Nairobi with his wife and son.