Latest Shimmer developments
IOTA launched Shimmer network in 2022 in one of its biggest developments on record. Shimmer describes itself as a scalable and feeless network that enables frictionless decentralized ecosystems. It acts as a testing playground for dApps in the IOTA ecosystem.
As I wrote in this article last week, Shimmer has launched the testnet of its EVM technology. Ethereum Virtual Machine is a software that makes it possible for developers in other chains to scale their applications.
The first stage of Shimmer's EVM is known as a Magic Smart Contract, which allows a seamless and bridgeless native asset transfer between Shimmer and EVM chains. In the end, it will be easy for IOTA smart contracts to work together with EVM networks.
Read more: How to buy IOTA.
Shimmer partners with Multichain
The latest IOTA news is that Shimmer has partnered with Multichain. Formerly known as AnySwap, Multichain is a cross-chain infrastructure project that facilitates the interoperability of the major blockchains. As a result, this partnership will enable the seamless interoperability between IOTA, Shimmer, and the ShimmerEVM.
Therefore, the recent IOTA price action is a sign that investors believe that Shimmer will lead to ecosystem growth. I am skeptical about all this because of the nature of competition in the smart contract industry.
Today, the number of such platforms has grown rapidly. Some of the top layer-1 networks are Ethereum, Avalanche, BNB Chain, and Tron. At the same time, there are other fast-growing layer-2 networks like Arbitrum, Polygon, and Optimism.
Further, there are concerns about IOTA's tangle technology. See, unlike Ethereum and other projects, IOTA is not a blockchain. It is a tangle, which is a group of data chained that are intertwined with each other. Blockchain, on the other hand, is a series of linear, cryptographically connected data blocks. Tangle is criticized because of its cost of decentralization and security.
IOTA price prediction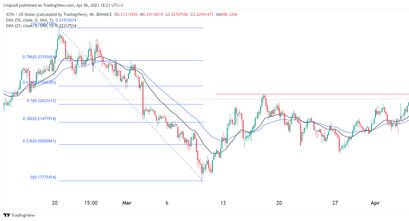 The 4H chart shows that the IOTA crypto price has been in a slow bullish trend in the past few days. In this period, it has managed to move above the key resistance at $0.2325, the highest point on March 18. The coin has moved comfortably above the 25-day and 50-day moving averages and the 50% Fibonacci Retracement.
Therefore, from a fundamental perspective, there is a likelihood that the coin will continue rising as buyers target the key resistance at $0.25. In the long term, however, I have reservations about IOTA and Shimmer.